POLKADOT ENGLAND - The Place for Comfy and Cozy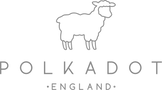 Be Kind and Do Good
Here at Polkadot England, we believe that sharing our successes makes for a better world. As a company, we are committed to giving back to different charities close to our hearts. We feel there are so many noble causes, so each month or couple of months we alternate. These philanthropic efforts inspire us as a brand and make you, our customers, feel better about supporting our small business.
Our previous partners include:
-CDC Emergency Response Fund: A private fund that provides the CDC with critical lifesaving resources to meet the immediate needs of Americans and the global community during a public health emergency. 
-YourMomCares: Non-profit whose mission is to grant innovative and impactful solutions to the mental wellness challenges facing children today.
-River Fund: an organization based in Queens, that feeds and empowers those they serve to move beyond the lines of poverty. River Fund provides food and non-food needs to individuals living under constant 'pressure of relentless material hardships.'
-The Retreat End Domestic Abuse: an accredited charity that provides safety, shelter and support for victims of domestic violence.
-Wildfire Relief through American Red Cross: Recovering from a wildfire takes time and a diverse network of organizations and services to mare sure people have the help they need.
From the bottom of our hearts, thank you for your support of our small business and of these incredible organizations.